ST 150 CF Centerfold BarTrack 1m50
ST 230 R StraightTrack, 2m30, rigid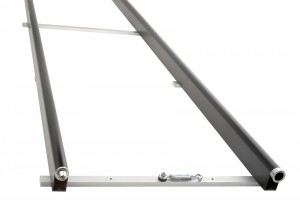 ST 230 S StraightTrack, 2m30, scissor
BarTrack straight
Making a dolly roll
Our straight dolly tracks are available in different lengths and a width of either 62cm or 100cm. Of course we can manufacture our dolly track in any gauge you want.
Our tracks are made of alumium, lightweight and easy to carry (no more than 10 kg). No welding has been done, all parts have been assembled by high quality stainless steel bolts and a special gluing process.
Camera dolly tracks come as CenterFold, scissor or rigid track. Although scissor tracks are still absolute number 1 the CenterFold tracks are catching up quickly. Unique about the CenterFold BarTrack: it folds as compact as possible. The crossties are folding underneath the BarTrack profile, together with the special designed turnbuckles.
When developing this product we held the slogan "What you pack is what you track" meaning that a 1m50 section will only take up 1m50 lengths of space.
Beside that these sections are much easier to carry around.
For all foldable tracks, both scissor and CenterFold we advise to have a short rigid track as well since this will keep the tracks square and straight.
The way we manufacture ensures the joints to be perfect, just perfect.
Optional: Spring Spanners
We have found our way in connecting the tracks without over tightening and yet keep them together: a Spanner with a spring! No adjustments need to be made anymore. Always the right tension, easy to use and most important: very fast!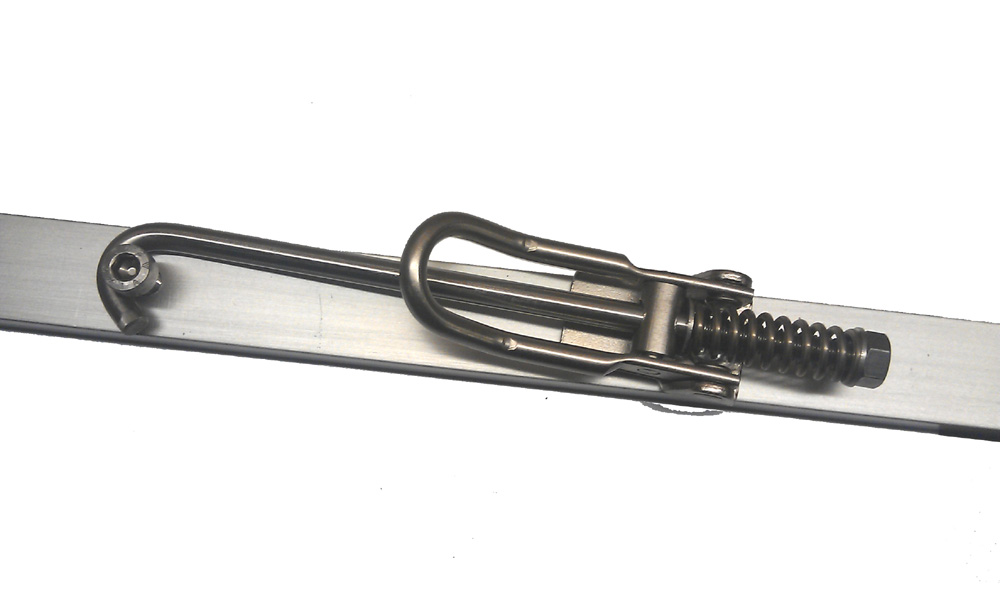 BarTrack Straight Tech Specs rigid, centerfolded and scissor tracks
max payload when supported at each crosstie: / sleeper: 300 kg
max payload when supported each crosstie / sleeper and each mini-sleeper: 2850 kg
tube diameter:               38mm
tracktube height:            75mm
(mini-)sleeper height:    15mm
footprint width:            710mm
Beside all below listed standard sizes we can deliver any lengths up to 7m40. So, if your shot requires a 6m30 long piece of track, just get in touch with us.
RIGID TRACKS STRAIGHT
ST 230 R  Track, straight, 2.30m (8ft)
ST 150 R  Track, straight, 1.50m (5ft)
ST 100 R  Track, straight, 1.00m (3ft)
ST 080 R  Track, straight, 0.80m (2ft)
ST 300 R  Track, straight, 3.00m (10ft)
SCISSOR TRACK STRAIGHT
ST 230 S  Track, straight, 2.30m (8ft)
ST 150 S  Track, straight, 1.50m (5ft)
ST 100 S  Track, straight, 1.00m (3ft)
ST 080 S  Track, straight, 0.80m (2ft)
ST 300 S  Track, straight, 3.00m (10ft)
CENTERFOLD BARTRACK (62cm)
ST 230 CF Centerfold BarTrack 2m30
ST 150 CF Centerfold BarTrack 1m50
ST 100 CF Centerfold BarTrack 1m00
ST 080 CF Centerfold BarTrack 0m80
MISCELLANEOUS
MTD 100  StarterTrack
MTD 200  Adapter Track to … (on request)
MTD 300  Triangle Track